Relaxing Body, Mind & Spirit
| | |
| --- | --- |
| Posted on August 10, 2016 at 8:20 PM | |
Juniper Essential Oil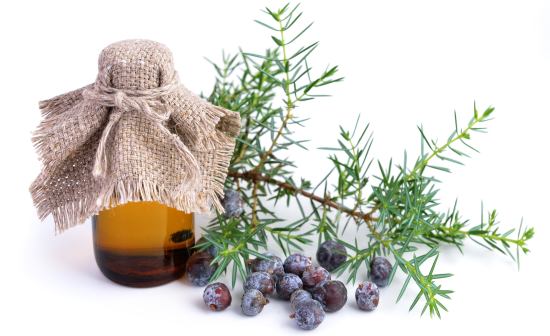 Juniper is an evergreen shrub that is very common in Europe with  impressive health benefits.
Holistic medicine also embraces juniper, and considers it a highly versatile and therapeutic oil.
Therapeutic uses of juniper essential oils:
Acne, arthritis, appetite regulator, anxiety, cellulite, colds and flu, detoxify, disinfectant, drowsiness, eczema, gout, hair loss, headaches, immune system, infections, mental exhaustion, menstrual problems, muscle cramps and spasms, nervous tension, oily complexions, rheumatism, skin toner, stress-related conditions and wounds.
Antiseptic: Juniper essential oil used to be a well known antiseptic in the past and people wounded or injured in wars or athletics were treated with it. 
It efficiently protects wounds from becoming septic or developing tetanus.
Anti rheumatic: Juniper essential oil promotes and improves blood circulation. It also helps in the removal of toxins like uric acid from the body. Both of these properties help fight ailments like rheumatism, arthritis, gout, and renal calculi, which are related to improper circulation and the accumulation of toxins in the body. This essential oil also relieves swelling.
Antispasmodic: Juniper essential oil is also effective on nearly all forms of cramps, whether it is muscular, intestinal, respiratory or any other area. It relaxes muscle cramps and helps cure spasmodic cholera as well. Being an antispasmodic, it helps cure many of the other problems related with cramps or spasms.
Astringent: Being an astringent, juniper essential oil helps cure toothaches, stops hair loss, strengthens the grip of gums on your teeth and protects them from loosening or falling out. It also tightens loose muscles and gives a feeling of firmness, fitness and youth. This property can also be used to cure diarrhea as well. The most important benefit of this property is in the fact that as an astringent, it can cause blood vessels to contract and reduce the chances of hemorrhaging.
Carminative: Carminative agents help in the removal of gases from the intestines. Gas, when trapped in the intestines and forced upwards, can be very dangerous, and sometimes can even be fatal. When gas pushes upwards, it can choke a person, create chest pain, indigestion and uneasiness, raise the blood pressure, threaten your heart health and give acute stomach aches. In this respect, juniper oil can help you a lot. It effectively removes gases through the downward passage and does not let additional gases form. Juniper oil is also very good for those who are suffering from chronic gas trouble.
Depurative: The essential oil of juniper cleans the blood of toxins and thus acts as a detoxifier or blood purifier. This property is also known as depurative, meaning 'One which purifies'. It helps to remove the common toxins like uric acid, heavy metals, pollutants and certain compounds and hormones produced by the body itself. It empties the blood of these common toxins as well as other foreign toxins which get into the blood accidentally.
Diuretic: Juniper oil is diuretic in nature, meaning that it promotes urination. It also helps people lose weight because each time you urinate, some fats are lost from the body. This reduces blood pressure, removes extra salts and dangerous toxins like uric acid from the body.
Stimulant: This stimulating effect also helps overcome fatigue, dizziness and depression. It increases the activity of the brain and neurons, nervous system, secretions from the endocrine and exocrine glands, which includes secretion of milk, sebum, sweat, tears, urine and discharges during menses, digestive system and the excretory system.
Tonic: Juniper oil is also considered a tonic, because it tones up everything, including the muscles, tissues, skin, and various other systems functioning inside the body. This includes the respiratory, circulatory, nervous, digestive and excretory systems. This tonic effect helps retain youth for a long time and maintains proper health for all your years.
Vulnerary: If a diluted solution of this oil is applied on wounds or blended with a skin cream and applied, it helps your wounds heal faster and keeps them protected from infections. This oil is equally beneficial in healing internal wounds, cuts and ulcers.
Other Benefits: It disinfects air and helps cure kidney stones, inflammation, urinary tract infections, acne, eczema, skin diseases, dandruff and enlargement of the prostate gland.
A Few Words of Caution: It should be avoided during pregnancy and by those who have kidney problems, and it should always be used in low concentrations.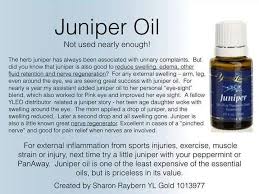 Some of many essential oil applications: 
To alleviate anxiety, nervous tension, and combat stress-related disorders, use 8-10 drops in bath water. Can also use 2-3 drops in a diffuser.
For arthritis and rheumatism, add 2-3 drops to 1 ounce of carrier oil and massage into affected areas.
For cellulite and detoxification, add 2-3 drops to 1 ounce of carrier oil and massage into affected areas regularly. Can also use 8-10 drops in bath water.
To fight colds, flu, and infections, use 3-5 drops in a steam inhalation. Can also use 8-10 drops in bath water, or 3-5 in a diffuser.
To help prevent hair loss, mix 3-5 drops in unscented conditioner. Leave on hair for 3-5 minutes, rinse as normal. Use regularly.
For headaches, use 2-3 drops in a diffuser or 8-10 drops in a bath. Can also use 2-3 drops in one ounce of carrier oil, and massage gently into temples. Increase benefit by adding lavender.
As a home disinfectant, use approx. 5 drops in a quart of water. Transfer to a spray bottle, and shake before using.
To boost the immune system, use 8-10 drops in bath water, or use 2-3 drops in a diffuser.
To regulate period and to fight cramps, use 2-3 drops in one ounce of carrier oil and massage on lower abdomen.
As essential oil of the month, Juniper berry is blended into some of the massage oils and creams used at Iris' Massage Studio. 
Book your massage today and experience a relaxing treatment with Juniper essential oil.
(757) 272-7071
See you soon,
Iris
Categories: Aromatherapy
/